Placa SPLITBOARD K2 Panoramic 168
Getting out to the promised land of untouched lines often requires earning your stripes through a ton of variable conditions first. That's why a splitboard that can handle it all is key. The K2 Panoramic Splitboard Package's all-terrain profile ensures versatility while the addition of Tweekend™ design adds significant surface area to your ride. Add bamboo stringers and a carbon web for rigidity and resistance to unnecessary torsional flex, and the K2 Panoramic Splitboard Package is a truly balanced and versatile splitboard for any backcountry adventure, whether you find the pow or not. This package includes the Panoramic splitboard, 2 Voilé Slider Track binding plates, a full puck set and alignment guide, 2 Dual Climbing Heels with 55mm and 75mm climbing wires, 2 Voilé Slider Pins and t-nut inserts for attaching your bindings.
PRODUCT DETAILS
ROCKER TYPE
All Terrain Baseline™ – Designed for use anywhere on the mountain, K2's AT baseline allows for effortless turns in the hardest conditions. It also provides ample float in soft snow and crud. Designed as a directional baseline, AT has a medium rise through the tip and a lower rise in the tail. The perfect balanced baseline for a multi-purpose rider.

Tweekend™ – A revolutionary tweak to the ends of K2's industry leading Baseline technology. By extending the Baseline rocker all the way out to the ends of the board, an additional rideable surface is unlocked, giving you a bigger, more stable platform to press, float and land on.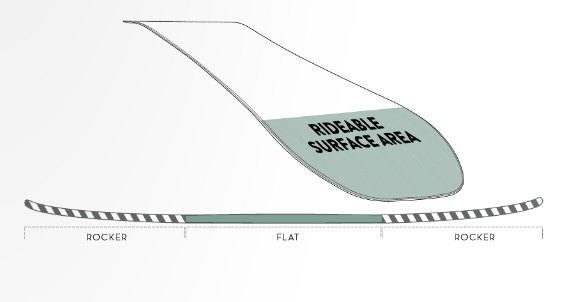 SHAPE
Directional Outline
CORE
Bambooyah Blend – Horizontal, skate-inspired laminated core of Bamboo and Wood. Adds strength, durability, and a damp feel.
LAMINATES
Carbon Web™ II – This core additive boosts the feel and energy return of your snowboard. By extending out beyond the contact points, it supports the whole length of the tip and tail. The result is a more connected feedback loop from terrain to rider.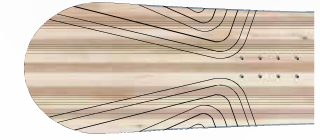 ICG 20 – The integration of carbon into the fiberglass reduces overall weight and creates a smooth power transmission from you to the snowboard. In exchange, this increases pop and liveliness.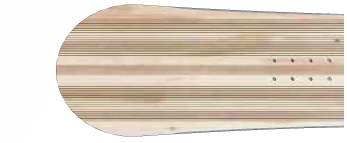 Triaxial Fiberglass – A glass laminate with diagonal layers that stiffens the board torsionally. Giving you improved edge hold and increased stability for those off-axis landings and at speed.
Biaxal Fiberglass – The classic structure laminate, biaxal glass provides a smooth all-purpose performance.
SIDEWALLS
Hybrilight™ – K2's exclusive Hybrilight construction features a thin, constant thickness sidewall designed for maximum performance and minimal material usage. The result is a light, more advanced snowboard with significantly less waste produced in manufacturing. Better on the hill and greener for the hill.
BASE
4000 Sintered – This is the fastest natural base material available. It is exceptionally durable and absorbs wax deep into the pores of the material to hold that well-waxed performance for as long as possible.
ADDITIONAL FEATURES
Z-Clip – Taking the already industry leading attachment system to a new level of secure attachment and ease of use. By angling the end of the skin you get the maximum amount of adhesion surface area and lowest profile clip.
Package Includes Pre-Shaped Skins, Heel Risers, Mounting Pucks, Mounting Tracks and T-Nut Inserts for Attaching your Bindings
SPECS
More Information

| | |
| --- | --- |
| Lungime | 168 |
| Tip placa | All-mountain |
| Profil | Flat Rocker |
| Latime | Normala |
| Rigiditate | 4-6 |
| Tip produs | Produse noi |
We found other products you might like!